Honeygain - Passive income effortlessly
If you are looking for money-making app that takes no effort to work and then use the money you earn to pay your groceries, bills and your IPTV Subscription such as your SO Player and Nora Go monthly subscription, then Honeygain is for you.
You simply download the app on your computer and/or phone, let it run and when you reached the payout limit, claim your money.
In this article we will gonna discuss all the information you need to start with Honeygain and how to start with $5 balance on your account.
1: What is Honeygain
Honeygain is the first-ever app that helps its users make money online by sharing their Internet connection literally doing nothing! People can now reach their Internet plan's full potential and not leave any unused Internet behind! It's real passive income – effortlessly!
The idea is simple yet brilliant – we do have quite fast internet connections nowadays, but often it is not being used to its full potential. This is where Honeygain comes in.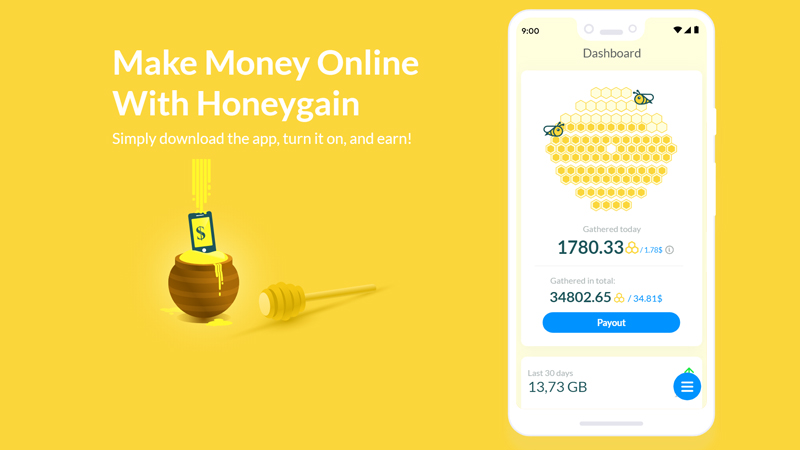 2: How to setup?
The app is available on multiple devices – you can earn money on Windows, macOS or
even Android devices like android phone.
They are currently working on iOS mobile.
The overall setup is really simple – install the app on your device, connect it to the Internet and log-in.
Below are the Honeygain download links:
3: Ways to Earn Money
There are ways to make money on HoneyGain.
The first is by installing the app. Currently, the app is available on Windows and Mac Computer and on Android Devices.
For example, if you have an android phone and a Windows laptop like I do, then download it on both of them for twice as many earnings. 
You can link up to 3 devices per Wifi Network. So if you have 2 Wifi, you can link up to 6 and so on.
The other way to earn money is by referring friends. You can invite your friends with your own personalized link and 10% of their daily earnings will be added to your account. If your referral reaches $50 a month you earn an extra $5!
You can share your link on Facebook, Twitter, Email, or copying and pasting it anywhere.
Another way is to use my referal code to start with $5 balance on your account.. The minimum cashout is $20 so you only have $15 more to go to get your first payout if you signup using the button below.
4: How Much can you earn?
It depends on how many devices you have the app installed and how much unused data you have.
You earn credits for every KB of data you bring in, and after collecting enough credits, you can convert them to cash.
Honeygain has an online calculator to estimate your earnings. They estimate your approximate earnings based on the hours you have Honeygain up and running and the longer you have it on, the more you earn.
They state that if you run Honeygain for 24 hours a day, which is 720 hours a month, you can make $50 a month.
This is a fair monthly income just for letting an app run in the background.
5: How Do You Get paid?
As mentioned earlier, you earn credits for every KB of data. The conversion math is 10 credits equals 1¢ USD. The minimum payout is $20 USD.
Currently, Honeygain only pays through PayPal. But are working on adding bank deposits and gift card options as well.
The payout waiting period will depend on the payment type you choose. Right now PayPal payments are usually paid in 24 hours.
Your credits don't expire as long as you run the app. If you turn off the app and become inactive then your credits expire 6 months after inactivity.
6: Some Data
Now to show you some data on Android and Windows experience so you can see how feasible this can be for you.
Android:
This is how your dashboard will look like on android. At the top you will see your current balance and the conversion to dollars at the bottom. As you can see, the Payout button is still greyed out. Once it reached 100%, that means you already reach the minimum payout and you will be able to request for payout.
Computer:
This is how it looks on windows. Almost the same. It only differs with the layout simply because phone and computer differ in dimension. And as you see, instead of Payout percentage gauge, what is showing right now is a Request Payout button. We already have $22.32 and we already reach the minimum payout which is $20. We can now request for cashout.
7: How to Request Payout
Now that you reach the minimum payout, all you have to do is go to your Dashboard and click on Request Payout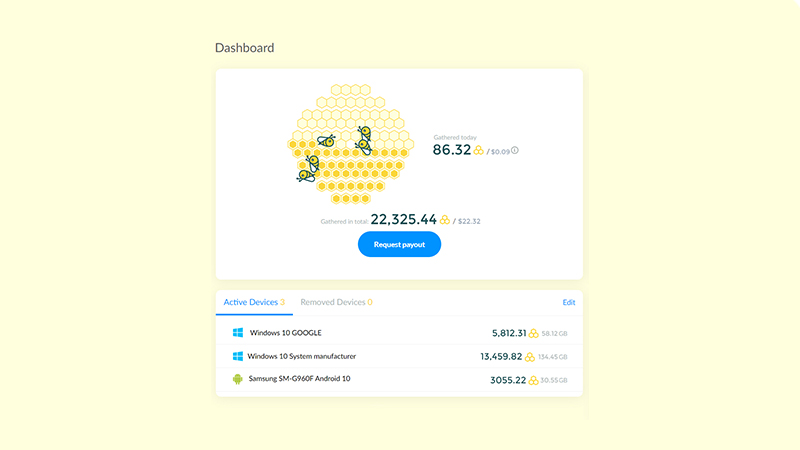 You will be transferred to New Payout Request page. Click on Request Payout button.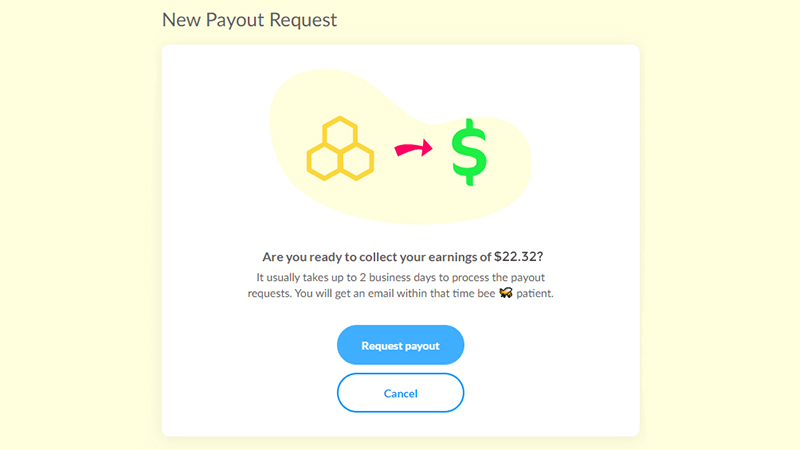 Then click on Claim Your Money button. Usually, it will take 24 hours before the money will reflect to your PayPal account.
8: Final Thoughts
Granted, you won't get a lot of money from Honeygain. But this is enough for you to pay some bills, groceries and even your IPTV Subscription like your Nora Go or SO Player subscription. Just by doing nothing!
Get started now by using the link and claim your $5 to begin with. You may apply radneyvous on the coupon as well.